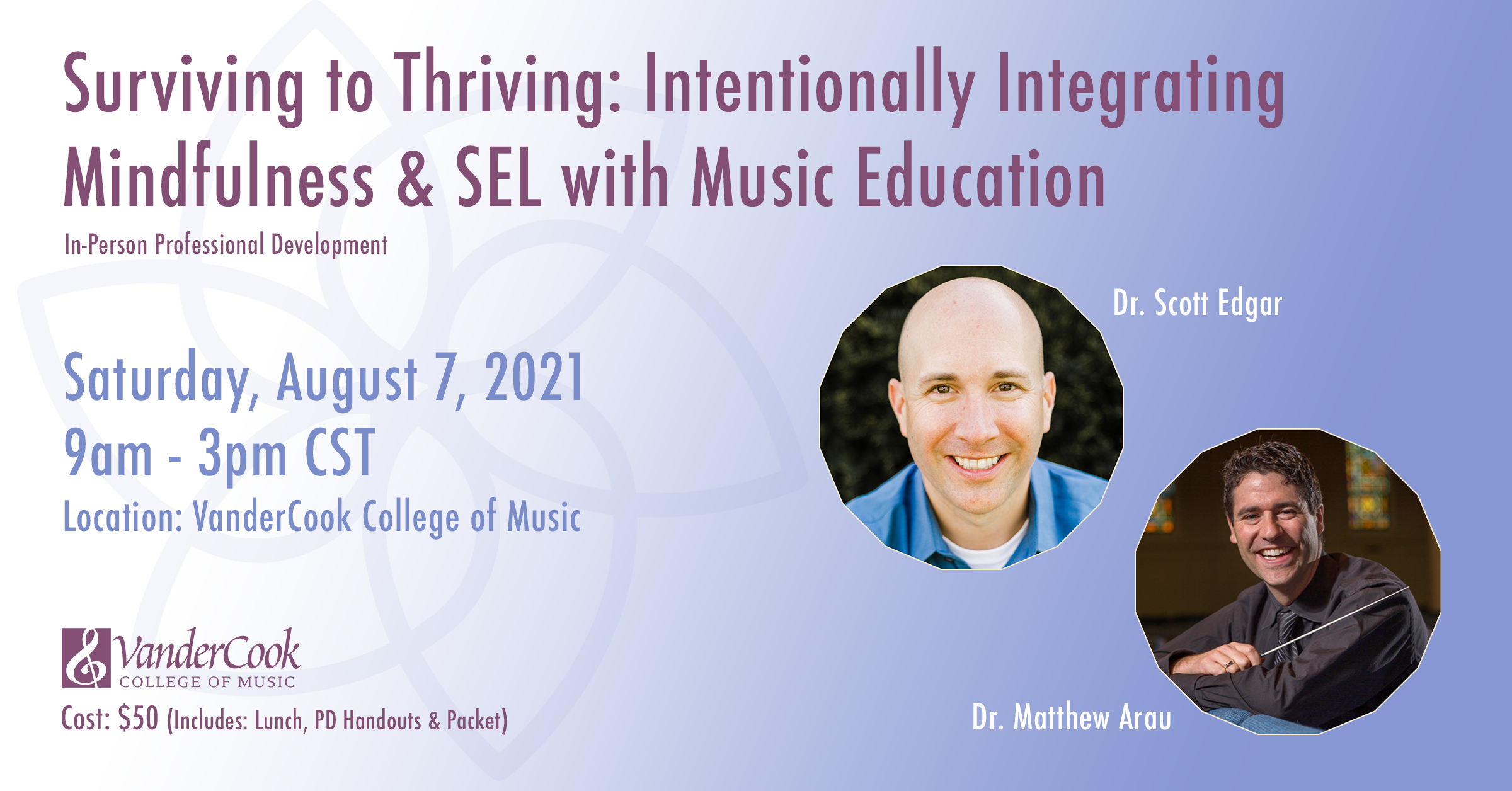 About
We have all struggled through the toughest school year of our careers--it's time to heal. Intentionally embedding Social Emotional Learning (SEL) and mindfulness into our music classrooms will help us all recover and build a future of unlimited possibilities for our students. What are SEL and mindfulness, and how do they integrate with music education? How can we organically adapt these ideas and practices into our teaching style and context? Join us at VanderCook College of Music IN PERSON and be part of this community to explore with content experts Dr. Matthew Arau and Dr. Scott Edgar how to create a path forward this fall for ourselves and our students. To just survive is not enough--it's time to thrive!
Date: Saturday, August 7, 2021
Time: 9:00 am - 3:00 am CST
Venue: VanderCook College of Music - Quinlan Hall
Address: 3125 S Federal St, Chicago, IL 60616
Price: $50 (Includes: lunch, PD handouts & packet)
Outcomes
Participants will understand how SEL, mindfulness can be integrated into their music teaching practice.
Participants will explore how the constructs of mindfulness and SEL resonate with existing practices in individual teaching contexts.
Participants will experience mindfulness and SEL modeled by the facilitators.
Participants will develop goals/personal practices associated with mindfulness and SEL.
Participants will develop strategies to tools to implement mindfulness and SEL in their classrooms.
Schedule
9:00 - 10:00 — Understanding where we've been to help us forge ahead
10:00 - 11:00 — Mindfulness in music education
11:00 - 12:00 — SEL in music education
12:00 - 1:00 — Working Lunch
1:00 - 2:00 — Translating SEL and mindfulness for your setting
2:00 - 3:00 — Grand Finale - Sending Forth to Thrive
Parking

Parking is free on campus.
Accommodations

Best Western Grant Park Hotel
(10-minute drive from college or 20 minutes in public transportation )
1100 S. Michigan Ave
Chicago, IL 60605

VanderCook College of Music Rate $129 + tax.
To book your stay contact:
Marites Capalad, Senior Sales Manager
mcapalad@bwgrantparkhotel.com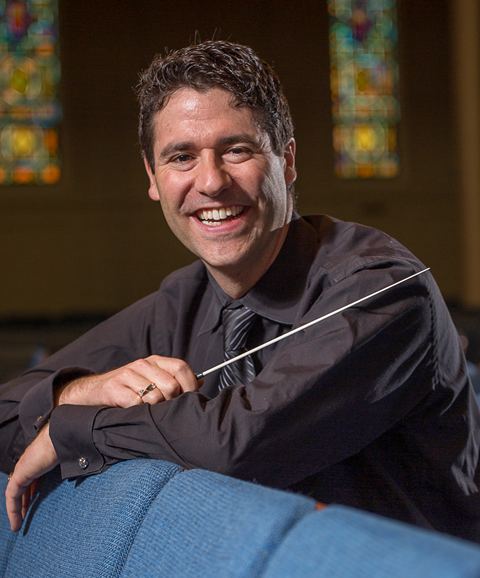 Dr. Matthew Arau is the chair of the music education department and associate director of bands at the Lawrence University Conservatory of Music in Appleton, WI. In addition, Dr. Arau is on the conducting faculty of the American Band College of Central Washington University and he is the founder of Upbeat Global. He also serves as a Conn-Selmer education clinician, and as a member-at-large on the NAfME Council for Band Education.

Dr. Arau has presented on mindfulness, leadership, growth mindset, rehearsal techniques, and creating positive cultures at the Midwest Clinic, the Western International Band Clinic, NAfME webinars, numerous State and Regional Music Education Association Conferences, the Conn-Selmer Institute, and universities, music camps, school districts, and schools in 26 states and on four continents. He has conducted honor bands in Australia, Greece, Cyprus and Malaysia, the Michigan and Utah All-State Middle School Honor Bands, and the South Carolina All-State Band, and honor bands across the country. He is published by C. Alan Publications, Bandworld Magazine, Conn-Selmer, SmartMusic, Everything Band Podcast, and The Instrumentalist and Hoonuit Online Learning.

Dr. Arau draws on a deep reservoir of 15 years' experience as a successful middle school and high school band director in Loveland, CO, where he led his bands at Walt Clark Middle School and Loveland High School to numerous honor performances and championships and pioneered the Leadership Symposium. Dr. Arau holds a Doctor of Musical Arts degree in conducting and literature from the University of Colorado Boulder and a Master of Science in Music Education degree from the American Band College. He graduated magna cum laude from Lawrence University, where he earned a Bachelor of Music degree in instrumental music education, music performance (classical), music performance (jazz studies), and a Bachelor of Arts degree in government.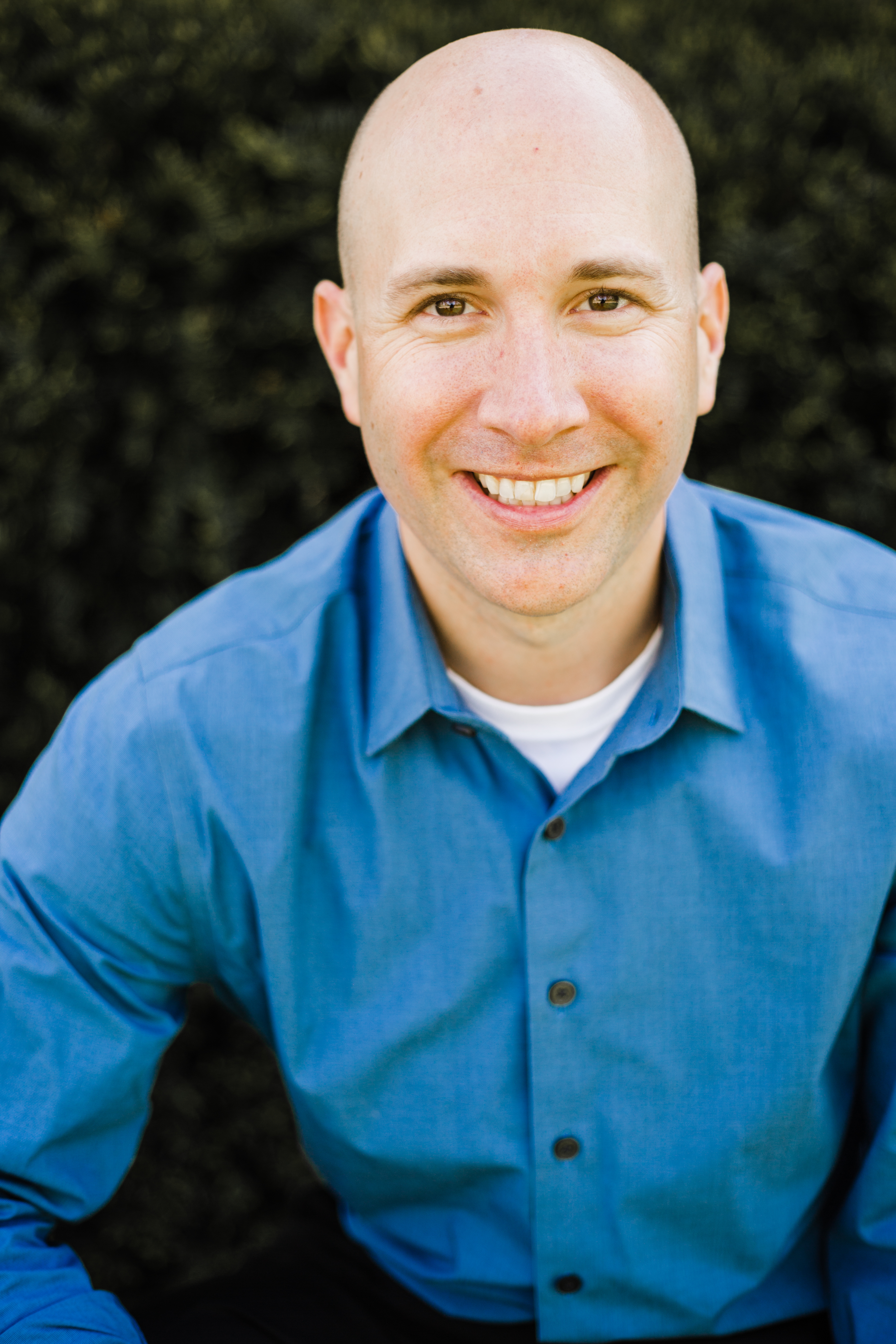 Dr. Scott N. Edgar is associate professor of music, music education chair, and director of bands at Lake Forest College. Dr. Edgar is the author of Music Education and Social Emotional Learning: The Heart of Teaching Music and is an internationally sought-after clinician on the topic. In addition to clinics, he also teaches graduate courses on musical social emotional learning. He is an active clinician and adjudicator for both concert band and marching band and regularly presents at professional development and research conferences. Dr. Edgar is a Conn-Selmer educational clinician and a VH1 Save the Music Foundation educational consultant.