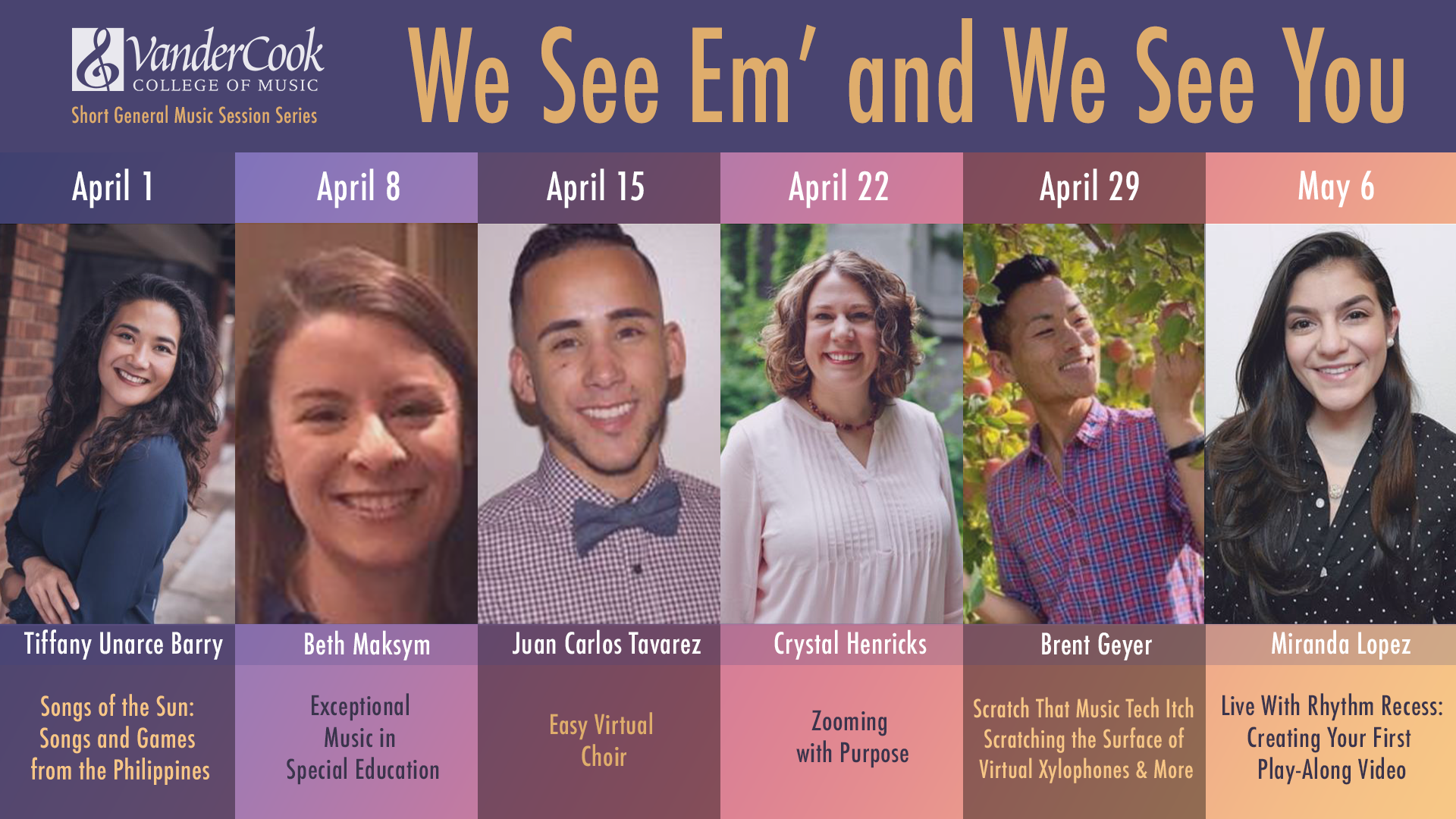 Biography
Tiffany Unarce Barry taught music for 14 years in the California public school system. She is currently an adjunct professor in the School of Music & Dance at San Jose State University, and serves as the administrative coordinator of their Three-Summer Master in Music Education Program and the course director of their Orff Schulwerk Teacher Training Program.
Biography
Beth Maksym has been teaching for 12 years. She currently teaches general music K-5 at​ ​EichelbergerElementary in Plainfield District 202. Beth earned her BA in Music Education from Augustana College in Rock​ ​Island, IL and her MMED from VanderCook College of Music. She also received her Orff levels I, II, and III​ training at VanderCook College of Music. Beth has presented workshops on creating a general music​ ​curriculum for special education self-contained students and incorporating the Orff method into a special​ ​education classroom. She currently is serving as the membership chair for Greater Chicago American Orff​ ​Schulwerk Association.
Biography
Juan Carlos Tavarez is in his seventh year as a music educator. He currently teaches elemental music for grades K-5 at California Ave School and Northern Parkway School in the Uniondale School District in Uniondale, NY. Tavarez leads the Boy's Chamber Choir and is the director of the All-District Elementary Chorus. He works closely with at-risk males and serves as a mentor to his students as the Male Rites of Passage Club and Young Gentlemen's Club supervisor. Before joining the Uniondale faculty, Mr. Tavarez taught for the NYC Public Schools, serving as a founding music teacher and school culture
coordinator. He received his BM in Music Education from Five Towns College and his MM in Music Education from New York University with a certification in Kodály. Currently, he serves on the board for the Kodály Organization of New York, co-chairs the Equity and Inclusion Committee, and is on the AOSA Diversity and Inclusion committee. Tavarez is pursuing his Doctoral Studies at Long Island University.
Biography
Crystal Henricks currently teaches lower school music at the University of Chicago Laboratory Schools. Her experience includes Nursery School-12th grade general and choral music, both in Chicago and China. She holds a BS in Music Education from Asbury College, Kodály Certification and MMEd from Capital University, Levels I-III Orff Schulwerk Certification from The University of Kentucky and Anderson University, and certification in the Dalcroze approach through the American Eurythmics Society. She is an active clinician for workshops and choral festivals both in the United States and abroad. She has taught music pedagogy and folk song research classes at DePaul University, VanderCook College of Music, and the University of Central Missouri.v
Biography
Brent Geyer has been teaching in the Westfield Public Schools since 2007 as both a general vocal music teacher for grades 1-5 and a strings specialist. During this time he has directed the All City Orchestra and All City Chorus and also directs the high school Men's Chorus. Brent's 5th grade choirs have sung with the NJ Festival Orchestra and were chosen twice to be aired on NJ 101.5 for their Christmas Choir contest, which they won first place in 2015. He has also served as an adjudicator for a number of piano competitions and festivals in the Pennsylvania and New Jersey region. Brent holds both a Bachelors in Music Education and Piano Performance from West Chester University, a Masters in Music Education from the University of the Arts, and completed his Orff levels at Villanova. He is also the creator of the virtual xylophones found on the coding site Scratch.
Biography
Miranda Lopez is an EC-12 Certified Music Teacher in Texas with an ESLSupplemental Certificate. She is currently teaching general music K-12 for the 21st Century after school program in San Antonio, TX. She has hopes to one day be a leader for her district in fine arts administration. She has four years of classroom experience teaching K-5 General Music. Since the start of the Covid-19 pandemic, she has been working on ways of engaging her students both in the classroom and through virtual instruction. Rhythm Recess and all of her video resources were born out of this necessity. Rhythm Recess continues to grow through professional development workshops and classes that she has taught to individuals across the United States and in five countries.